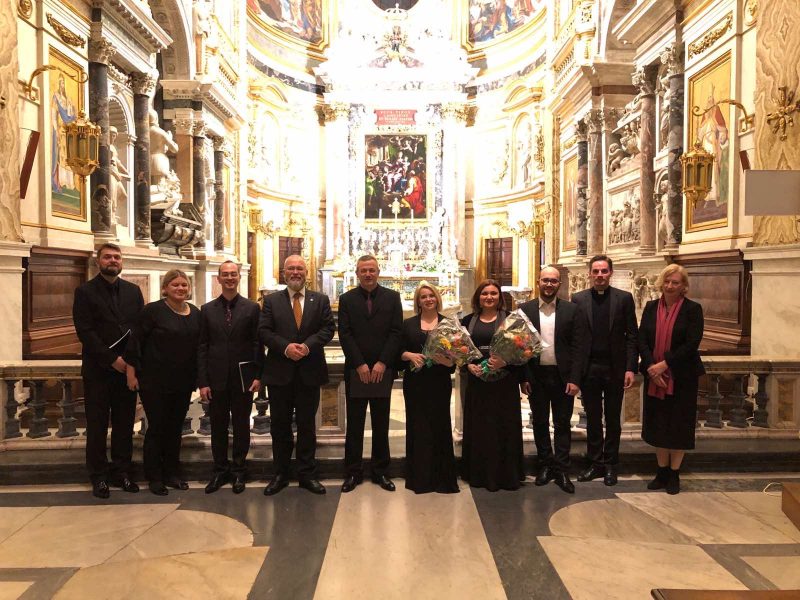 CroBaroque – Projekt Lazarus in Rome
Published: 14.11.2019.
The Projekt Lazarus has held a concert on Sunday, November 10th, 2019, at the Church of Santa Maria dell' Anima in Rome, performing works of the most significant composers of Croatian Baroque. The concert program entitled CroBaroque included works of Croatian Baroque composers Ivan Lukačić, Vinko Jelić, Ivan Šibenčanin, Francesco Sponga Usper and Damjan Nembri, as well as their contemporary Italian composer Bonaventura Beretta.
In the beautiful historic Gothic German-Austrian National Church from the 14th century, the Roman audience was delighted to welcome the excellent performance of this unique selection of Croatian Baroque Music. The audience included representatives of the diplomatic corps and the Croatian diaspora, the Croatian clergy to study in Rome and other guests.
The Croatian Music Center from Zagreb initiated the process of revitalization of the Croatian musical heritage of the 16th and 17th centuries, bringing together professional musicians in the Projekt Lazarus ensemble, seeking to bring the forgotten and rarely performed works of Croatian authors into synergy with performers – vocal and instrumental artists and musicologists – researchers to the audience.
The concert performance in Rome was supported by the Ministry of Foreign and European Affairs of the Republic of Croatia in cooperation with the Embassy of the Republic of Croatia to the Holy See.