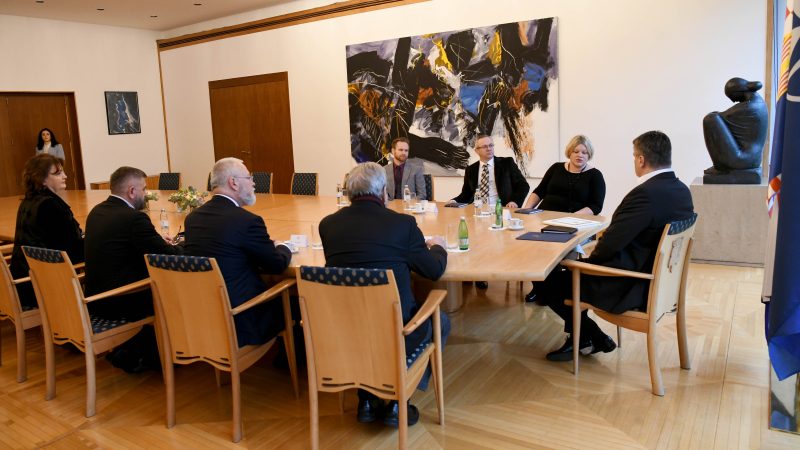 Contemporary Edition of Parnassia Militia, the Principal Work of Croatian Baroque Music, Presented to President Milanović
Published: 25.01.2023.
The President of the Republic Zoran Milanović received today representatives of the Matica hrvatska Branch of Sveta Nedelja and the Croatian Music Centre on the occasion of the 400th anniversary of the first publication of the principal work of Croatian baroque music – the collection of spiritual concerts (motets) "Parnassia militia" by the Croatian composer Vinko Jelić and the contemporary critical printed edition of this collection. The book "Parnassia militia" was presented to President Milanović by Martina Mičija Palić, President of the Croatian Music Centre and Head of the Music Department of the Matica hrvatska Branch of Sveta Nedelja, Robert Palić, Secretary of the Croatian Music Centre and Coordinator of the Projekt Lazarus for the revitalization of Croatian musical heritage, and Franjo Bilić, harpsichordist and conductor who prepared a contemporary edition of Jelić's collection. Presenting "Parnassia militia", they pointed out that this is an extremely important work of the Croatian musical baroque, which was first published in Strasbourg in 1622. The importance of this edition lies in the fact that one of the most important collections of Croatian musical baroque will be available to the widest range of interested domestic and international audiences in contemporary sheet music transcription, prepared according to the postulates of the so-called historically informed performances. The edition was awarded the Golden Charter of Matica hrvatska in 2022, and was included in the Collection of Alsatian heritage of the National and University Library in Strasbourg. Accompanying President Milanović were Special Adviser to the President of the Republic for Culture Zdravko Zima and Adviser to the President of the Republic for Foreign and European Policy Neven Pelicarić.
Source: Office of the President of the Republic of Croatia / photographer: Ana Marija Katić
https://www.predsjednik.hr/en/news/contemporary-edition-of-parnassia-militia-the-principal-work-of-croatian-baroque-music-presented-to-president-milanovic/