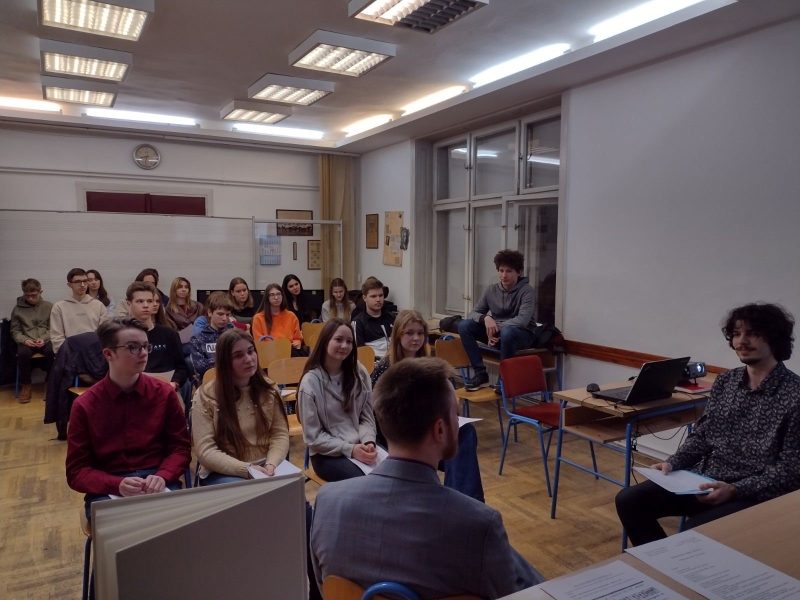 Presentation of the book Parnassia militia by Vinko Jelić and workshop in Music school Pavao Markovac
Published: 14.03.2023.
Croatian Music Center and the Pavao Markovac Music School in Zagreb organised the presentation of the contemporary critical edition of Vinko Jelić's collection of spiritual concerts Parnassia militia which was held in the school hall on Monday, 13 March 2023. The program was led by Nataša Leverić Špoljarić, prof. adviser, and the life and works of Vinko Jelić were presented by students of the music school under the mentorship of professor Leverić Špoljarić – Hana Pračić, Gala Milonja and Lara Janjatović. Student Andrija Wonnemann spoke about the instruments in the collection, while the interview with the editor of the edition, conductor and harpsichordist Franjo Bilić, was led by student Nikola Delerue. The editors, Assoc. Ph.D., Martina Mičija Palić and Robert Palić spoke about circumstances and creation od the book. The program ended with a workshop entitled "Transcription of the motet Sancti et justi from the original into modern notation" by Vinko Jelić from the Parnassia militia collection, led by Franjo Bilić.