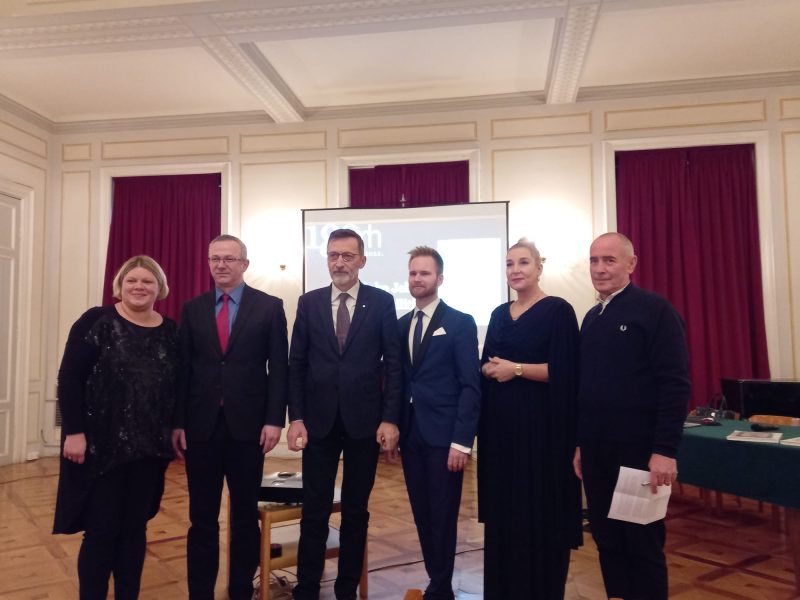 Presentation of the new edition of the Parnassia militia collection in Zagreb
Published: 29.11.2022.
On Tuesday, 29. November 2022, in the Revival Stateroom Hall of the Croatian Academy of Sciences and Arts, the presentation ceremony was held of the contemporary critical edition of Vinko Jelić's collection of spiritual concerts "Parnassia militia" (1622), published by the Matica Hrvatska Branch in Sveta Nedelja and Croatian Music Center, on the occasion of the 400th anniversary of the first printing. The printed edition was presented by Ivana Juričić, president of the Matica Hrvatska branch in Sveta Nedelja, editor of the edition Franjo Bilić, musicologist Ivan Živanović, editor Ph.D. Martina Mičija Palić and editor Robert Palić. The introduction to the ceremony started with 3rd ricercar from the collection "Parnassia militia" performed by Krešimir Fabijanić on the cornet and Hrvoje Sironić on the baroque trombone, after which the president of Matica Hrvatska, Mr. Miro Gavran, addressed the gathering. The speeches of all the presenters followed, and the present audience could see a short video of the visit of the Projekt Lazarus ensemble to the collegiate church of St. Mary in Saverne, where Vinko Jelić was pastor and canon. The presentation ceremony ended with the Audivi vocem motet by Vinko Jelić, performed by the Projekt Lazarus ensemble.
Read more: https://www.jutarnji.hr/kultura/glazba/objavljena-zbirka-baroknog-genija-iz-rijeke-povod-je-400-obljetnica-prvoga-izdanja-15281314