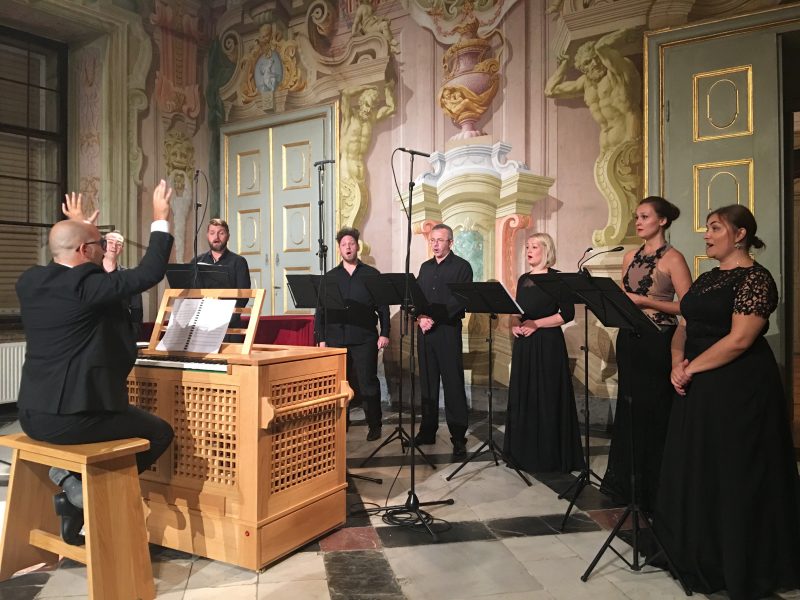 Projekt Lazarus at Seviqc Brežice Festival
Published: 27.08.2018.
On Saturday, August 25th, 2018, in the crowded concert hall of Viteška dvorana (The Hall of Knights) of Bistriški grad (Bistrica castle) in Slovenska Bistrica, Projekt Lazarus ensemble held a concert on which for the first time the Slovenian public had an opportunity to listen to a book of psalms written by Damjan Nembri, Brevis et facilis psalmorum, published in Venice in 1641. In addition to Nembri, the ensemble also performed two motets from Lukačić's Sacrae cantiones collection, two spiritual concerts from Jelić's Parnassia militia collection and Šibenčanin's motet Laudate pueri. The extraordinary historical surroundings of the castle in Slovenska Bistrica, the splendid acoustics of the Viteška dvorana and the authentic instrument of the Slovenian organ builder Anton Škrabl with an ensemble in excellent mood, left the audience breathless, who awarded the performers with intense and long-lasting applause. The high-level professional organization of the concert, as well as the whole festival organization should be noted, featuring renowned musicians from all over the world, thanks to Mr. Klemen Ramovš, the head of the Seviqc Festival in Brežice.
The Croatian Music Center through the Projekt Lazarus presented a valuable Croatian musical heritage with another international appearance, confirming its affiliation with the Western European civilization and cultural circle.
http://www.seviqc-brezice.si/news/projekt-lazarus-and-baroque-revival-from-hvar.html