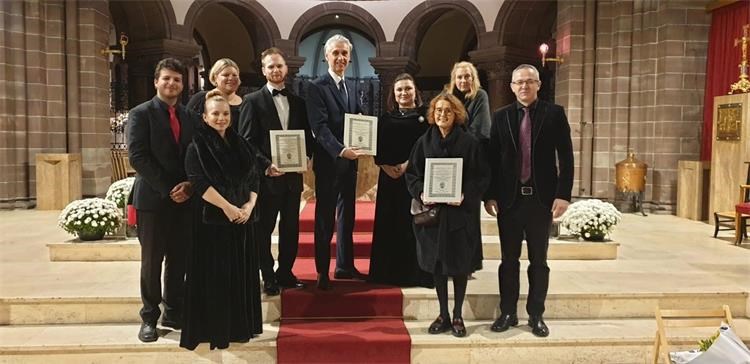 Projekt Lazarus in Strasbourg and Saverne
Published: 21.11.2022.
The Projekt Lazarus ensemble honoured the most tragic events of recent Croatian history with a concert performance with the Parnassia militia 400 program in Strasbourg, in the Saint-Pierre-le-Jeune church, on 18. November 2022. – the Day of Remembrance for the Victims of the Homeland War and the Day of Remembrance for the Victims of Vukovar and Škabrnja. The Projekt Lazarus performed compositions from the only completely preserved collection of spiritual concerts by Vinko Jelić and compositions by his contemporaries, including Johannes de Cleve, Reimundo Ballestra, Giovanni Priuli, as well as Croatian composers Ivan Lukačić and Atanazije Jurjević. It was especially a pleasure and a unique experience to visit the former collegiate church of St. Mary in Saverne (Notre-Dame-de-la-Nativité) and after 400 years to perform Jelić's music in the place where he was a parish priest and a canon, and where his music was performed. We would like to take this opportunity to thank the Permanent Representation of the Republic of Croatia at the Council of Europe and the sponsor – the Ministry of Foreign and European Affairs of the Republic of Croatia for the excellent organization of this concert, who made it possible to commemorate numerous Croatian victims with Croatian music in the heart of Europe – Strasbourg and Saverne, and to honour the most tragic days of our recent history.