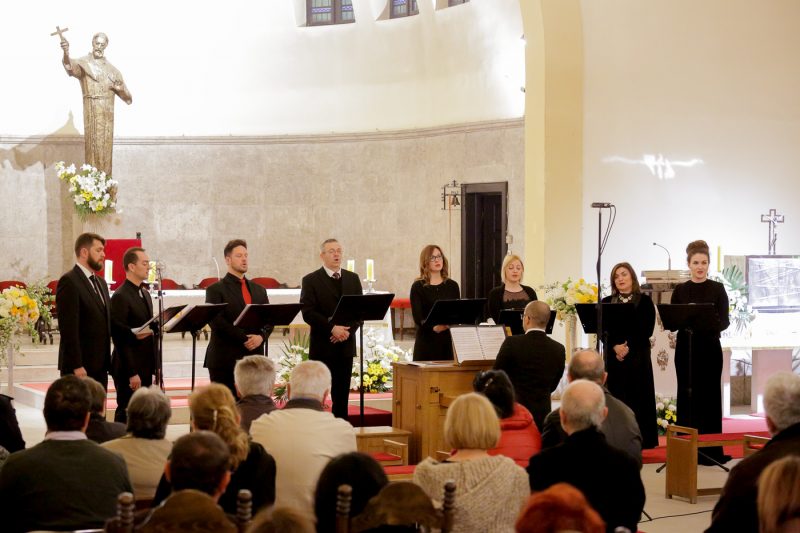 The concert of "Projekt Lazarus" in Zagreb
Published: 27.04.2017.
On Sunday, 23 April 2017, at the church of St. Nikola Tavelić in Zagreb – Kustošija, "Projekt Lazarus" held a concert titled "Brevis et facilis psalmorum", in which the ensemble led by maestro Darijan Ivezić featured the works of Croatian composers from the first half of the 17th century. With the motets of Ivan Lukačić and the spiritual concerts of Vinko Jelić, "Projekt Lazarus" also presented rarely performed three-voice motet of Ivan Šibenčanin –"Laudate pueri". The main part of the concert was certainly marked by the book of psalms of the Italian-Croatian composer Damjan Nembri, "Brevis et facilis psalmorum", the only preserved work of this author, published in 1641 in Venice by Bartolomeo Magni, which had its first contemporary performance in Zagreb at this concert. The great number of audience at the church of St. Nikola Tavelić enthusiastically accepted the performance of the supreme works of Croatian music history, and with a long-lasting applause has drawn from the artist a special addition – the ecclesiastical poem "Uskrsnu Isus doista" arranged by Franjo Dugan senior.