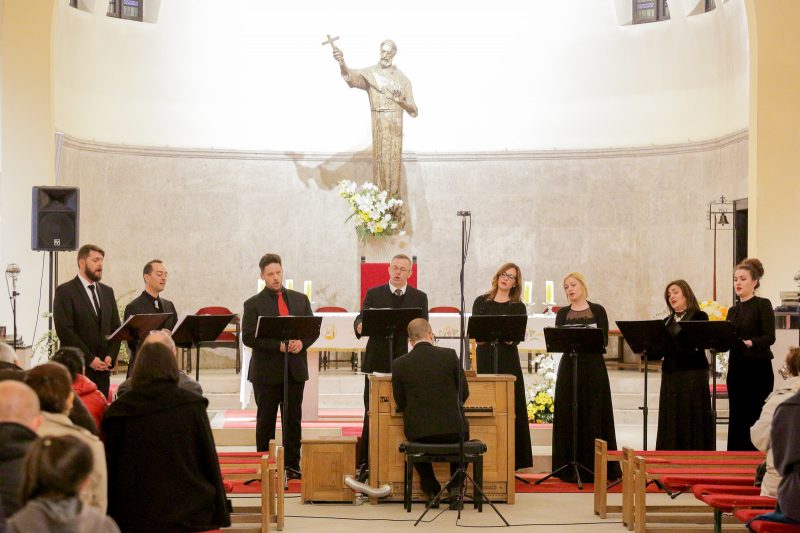 Projekt Lazarus ensemble broadcasting on Croatian Catholic Radio
Published: 08.04.2020.
On Friday, April 17th, 2020, Croatian Catholic Radio broadcasted a recording of an all-night Easter concert performed by the Projekt Lazarus ensemble held on April 23rd, 2017 at St. Nikola Tavelić's Church in Kustošija, Zagreb. The concert program featured the most significant representatives of the Croatian music baroque – Ivan Lukačić, Vinko Jelić, Ivan Šibenčanin and Damjan Nembri. After completing the official part of the ensemble program, Projekt Lazarus presented to the audience a performance of one of the most famous Croatian Easter songs – Uskrsnu Isus doista arranged by Franjo Dugan Sr. This concert was performed by Tanja Rupnik and Tanja Ruždjak – sopranos, Martina Menegoni and Nikolina Virgej Pintar – mezzo-sopranos, Sinisa Galović and Ivan Martinčić – tenors and Matija Meić and Robert Palić – basses, with organist and conductor Darijan Ivezić and artistic collaborator and producer dr. sc. Martina Mičija Palić.
We would like to thank Croatian Catholic Radio, and in particular to Mr. Slavko Nedić, for their great efforts in preparing this recording for radio transmission.
More info: https://hkr.hkm.hr